With its ECG (512HZ) capability and chest patch instant analysis, you can receive real-time ECG readings and keep track of your heart's health.  The non-invasive glucose monitoring, along with heart rate monitoring, blood pressure monitoring, and blood oxygen monitoring, allows for a comprehensive understanding of your body.
igns.
Specifications:
Base Parameter
Product Model
ECG6
Function points

E600 Egg Roll ECG Blood Glucose Health Bracelet, 1.47-inch 172*320 HD touch screen, ECG (512HZ), chest patch instant ECG analysis, ECG band monitoring, non-invasive blood glucose monitoring, heart rate monitoring, blood pressure monitoring, blood oxygen monitoring, 

multi-exercise mode, custom dial, online multi-dial, exercise recording. Sleep monitoring, call and message reminder, ultra low power consumption and long endurance. Metal alloy shell, mute alarm clock, remote photography, music control, sedentary reminder, drink water reminder, weather display, countdown, shake to take photos, mobile phone search.
APP Name: H Band
Chip:
low-power design GR5515

PPG sensor chip 

:

 SFH2201

Audio chips

:

TYHX3220

Blood oxygen chip

:

GH3220 RF analog front-end+ SFH2201

G-Sensor

:

Rohm KXTJ3-1057

Battery Capacity

:

160mAH
Screen size:
1.47-inch 172 x 320 HD touch screen 

heart rate/blood pressure

:

Green light PPG

Waterproof

:

waterproof ip68

Bluetooth

:

Bluetooth v:5.1

(

compatible Android 5.0 and IOS 9.0 above version

)

Operation mode:
Full touch screen+button

Material

:

Zinc Alloy case+Abs

Strap

:

Environmental TPU/leather watchband
Charging mode:

Magnetic suction charging line (protect)

:

USB 2.0

Health Monitor:
Sleep monitoring, heart rate, blood pressure, sitting reminders, drinking reminders, blood oxygen, blood sugar,
sports modes:
Sports steps, sports mileage record, card road consumption, a variety of sports modes.  Movement track (mobile APP display) 
Standby time:
30 days standby, daily battery life of 4-7 days (the above data from the factory laboratory, may be different due to personal use environment, different processes) 
Other functions:
Mute alarm clock, remote photo, music control, sedentary reminder, drink water reminder, weather display, wrist light screen, call reminder, SMS reminder, countdown, shake to take photos, mobile phone search, etc
Wechat movement:
Follow the public account, can share synchronization to WeChat campaign
App language:
APP side:
Russian, Hungarian, Turkish, German, Italian, Czech, Slovak, Japanese, French, Polish, Persian, Simplified Chinese, Traditional Chinese, English, Portuguese, Spanish, Vietnamese, Arabic, Korean
Firmware language:
Band end:
Simplified Chinese, Traditional Chinese, Korean, Japanese, English, German, French, Italian, Spanish, Portuguese, Russian, Turkish, Croatian, Polish
Packing 
Color
5 color schemes
(Silicone strap: black, red, blue)
(Leather strap: black, brown)
Packing
Smart watch,charge,operation instuction,packing box,(ECG and ECG band are optional)
WATCH size
265*26*11MM 
Box Szie
Color box: 172 * 97 * 33 mm
Outer case: 50 sets per case.
weight
Single unit (including watch band) : 34g ,complete set: 174g.
ECG Blood Sugar Blood OxygenSmart Health Bracelet
Blood Glucose Monitoring I ECG Electrocardiogram
HRV Variability I True Blood Oxygen | Multiple exercise modesBlood pressure and heart
rate monitoringBody temperature monitoring
6 reasons to choose
More intelligent functions are waiting for you to discover
Curved thin and light designThe beauty of streamer
The new 3D ultra-curved thin and light design is likea streamer, transparent and clean. It adopts a 1.47" HDresolution full screen, and the extraordinary picture qualitypresents you with a star-like visual feast, classic streamer,true color breakthrough, and amazing sight.
512HZ ECG monitoringAccuracy increased by 48%
2.8 ECG millimeter wave algorithm 512 millimeter wavecalculations per second, combined with ECG electrocardiogramanalysis, the accuracy is increased by 48%, and the heartabnormality is known in advance, and timely medicaltreatment is possible.
7th generation hybrid 3-lead ECG
36 kinds of disease screening and diagnosis
Innovative new 3-lead ECG monitoring technologyimproves data accuracy and increases the number ofdisease screening items.
Heart rate belt detection
The heart rate belt uses the micro-voltage signal generatedby the beating of the heart to amplify and process the ECGvalue directly, thus reducing the influence of light andskin on the accuracy.
4 modesMore accurate monitoring
ECG data charting
32 kinds of ECG disease screening
Real-time tracking of your health status through built-insensors, screening of 32 kinds of ECG diseases, Al ECGthat can be understood. Support ECG playback health report,provide intuitive and accurate ECG diagnosis report, intuitivelysee diseases and potential risks, and let you know your health anytime, anywhere.
HRV report
Lorenz scatter plot analysis report
In the APP, there are HRV heart health index analysis andLorenz scatter diagram analysis report, which can intuitivelysee the law of heart beat and make intuitive judgmenton arrhythmia.
24/7 blood glucose measurementNeedle-free lifetime free measurement
Heart rate monitoring too high alarm24 hours automatic monitoring
Integrating PPG+ECG measurement technology, PPGphotoelectrically measures heart rate for automatic recordingthroughout the day. The new sensor supports intelligenttiming monitoring, manual real-time monitoring andautomatically saves data and uploads to APP to ensurethe reference and accuracy of health tests.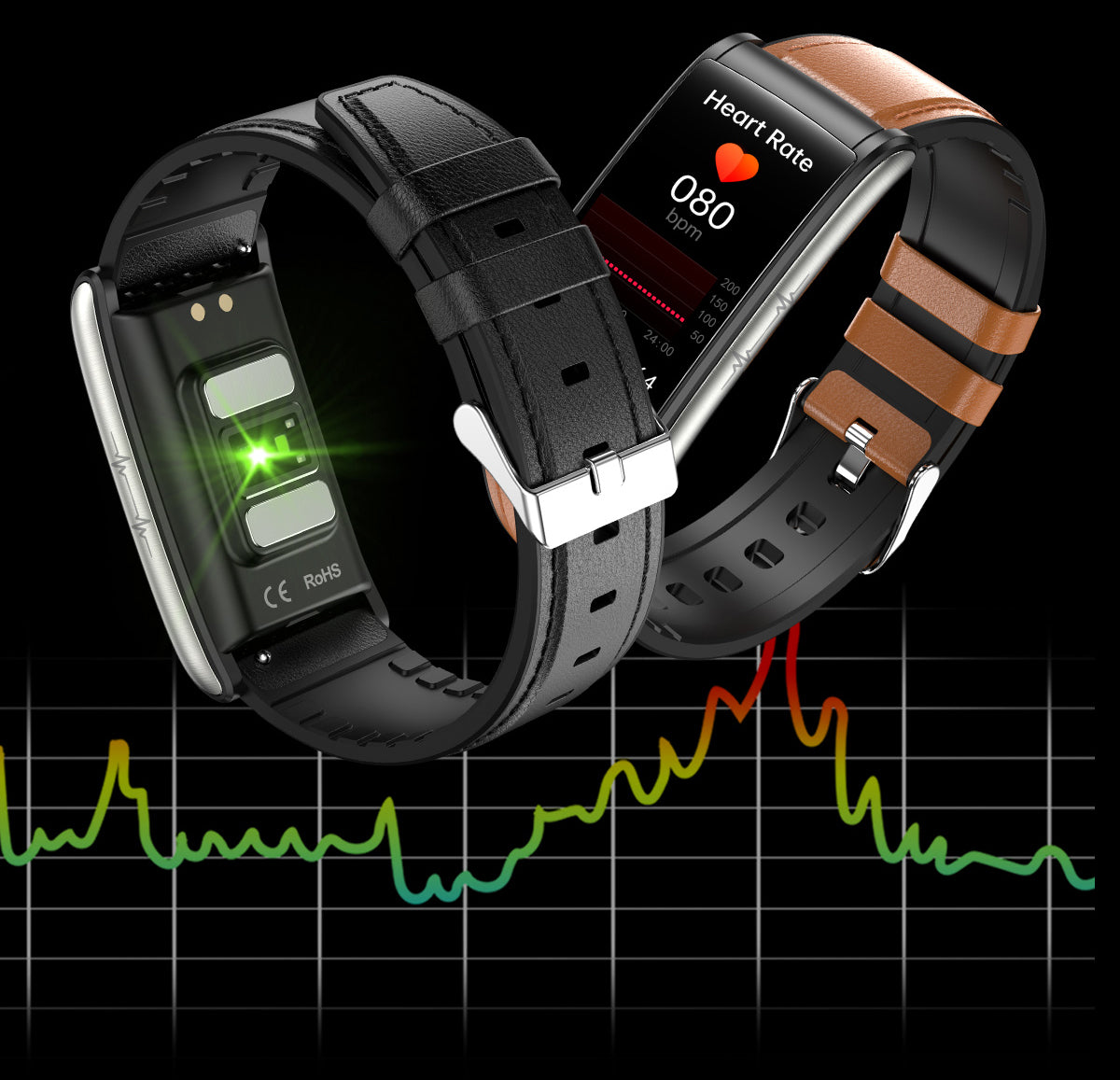 Blood pressure monitoring
Using high-performance optical sensors and self-developedoptimization algorithms, it can accurately measure andrecord your blood pressure.
Wrist Thermometer
24H temperature measurement
Through the temperature sensor, 24-hour real-timemonitoring, high measurement accuracy, real-timemonitoring of your own body temperature.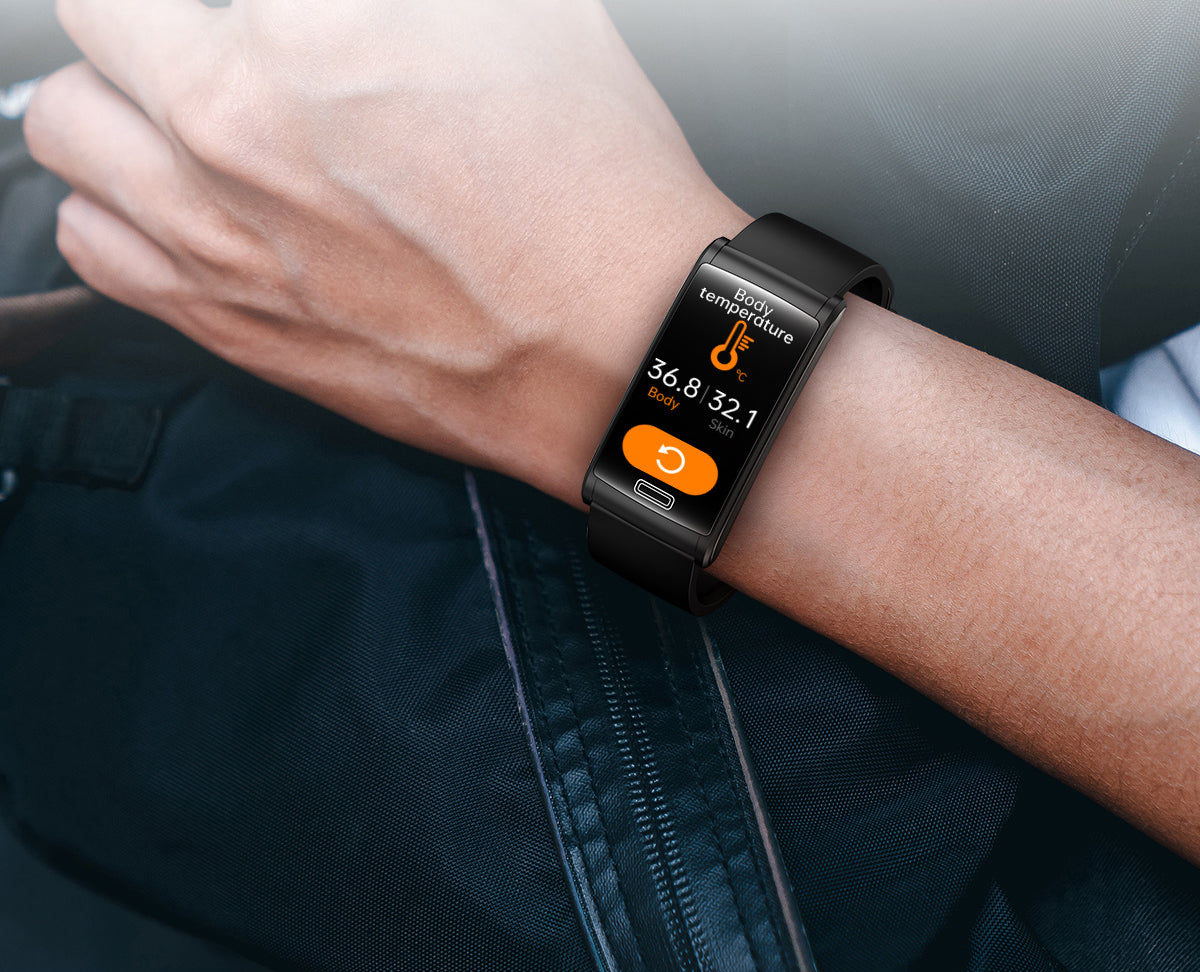 Scientific sleepadjustment schedule
Sleep monitors your sleep duration and sleep qualityat the same time, records deep sleep and light sleep,and checks sleep trends through the APP to helpimprove sleep quality.
Women's menstrualcycle reminder
The built-in female menstrual cycle function reminds youof the safety period, menstrual period, ovulation period, andpregnancy period. The device will display different statusprompts in different periods.
Switch betweenvarious dials at will
There are a large number of styles in the dial market,and you can choose and replace different dials to meetdifferent occasions and make the excitementuninterrupted.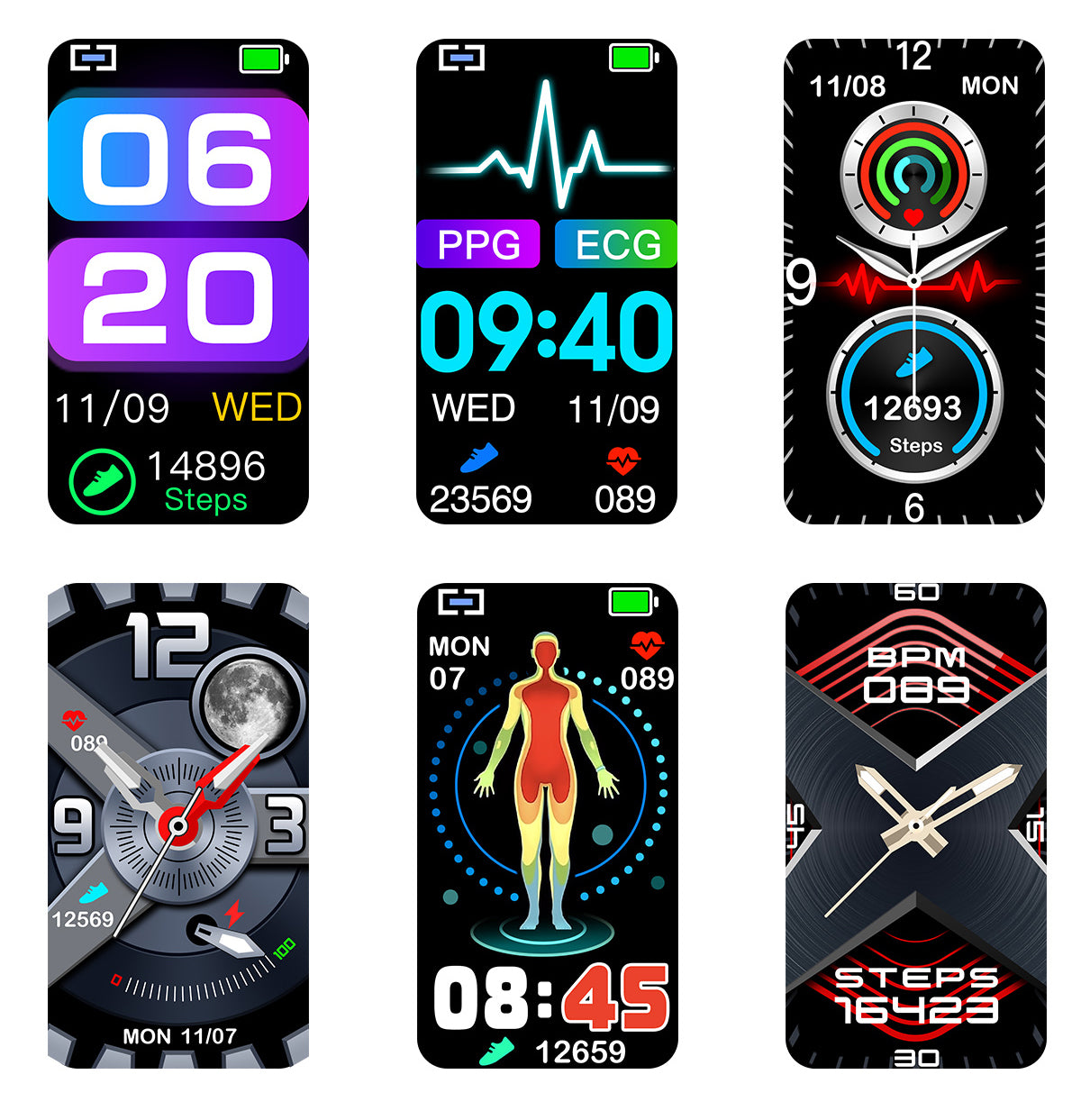 Custom dial
Support custom watch face, you can set your favoritepictures as the watch face background, take selfies,cute pets, couple photos, family photos, enjoy DIY styleon your wrist.
Powerful chip upgrade
Equipped with GR5515PRO wearable chip,
whether it is graphics processing or computing speed,it is N times stronger than ordinary Bluetooth watch chips,with ultra-low power consumption and strong battery life.
15+ sports modeslgnite sports passion
It supports a variety of sports modes, including customsports modes and more than 10 professional sportsmodes, providing you with professional sports evaluationand suggestions to help you better understand theeffect of sports.
Surging powerstrong endurance
With the latest Bluetooth technology, the power consumptionis as low as 15 microamps, and the battery life can be upto 7 days of use and 30 days of standby, so that you don'thave to worry about insufficient power at all.
IP68 levelDaily life waterproof
Waterproof and dustproof design, it can be wornnormally in daily rain, hand washing, and cold waterbathing, and can easily cope with daily life scenes.
Real-time notification
Connect the mobile phone through Bluetooth, and thephone, Twitter, and various APP information can besynchronized with the watch in real time, so that youwill not miss every important moment.
Sedentary reminder
Sitting for a long time affects your body function.If you set the time for sedentary activities, the watchwill remind you to get up and move around on time towake up your body function and meet work and studyin a better state.