Is It Worth Buying A Smartwatch For Running?
Apr 26, 2023 by fitnessbp
Smart Watch Fitness
Running is a popular exercise that can provide many benefits, including improving cardiorespiratory fitness, building muscle strength, and reducing stress and anxiety. But running at its best requires monitoring some key health metrics, and that's exactly what a smartwatch can provide.
Smartwatches can track your heart rate
Heart rate is one of the most important health metrics for many runners to watch, as it can help gauge how hard you're working out and how many calories you're burning. The heart rate monitor in the smart watch can detect your heart rate in real time and display it on the watch to ensure that you stay within an appropriate heart rate range during exercise.
Smart watches can record your distance and speed
Using Global Positioning System (GPS) technology, smartwatches can measure the distance you run and track your speed. This will help you see how your run is progressing, such as whether you've hit your target mileage, or if your pace has improved.
Smart watches can remind you to stay active and exercise plans
The reminder function in the smart watch can send you regular reminders, reminding you that it is time to exercise. This feature is very useful for those who often forget to exercise.
Smartwatches also allow you to listen to music or podcasts during your run
A music player on your smartwatch or an app that can connect to your phone, allowing you to enjoy music or listen to your favorite podcasts while running, can improve the fun and motivation of your run.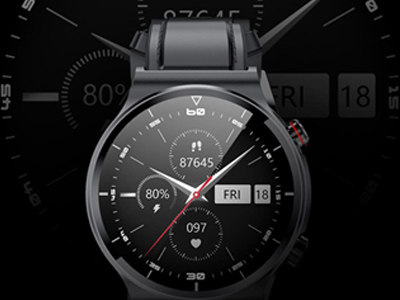 Smartwatches are one of the essential accessories for runners, helping to monitor your fitness metrics, improve your workouts, and make your workouts more fun. If you want to exercise more efficiently and easily, consider buying a smart watch to assist your running and fitness journey.