Experience advanced health monitoring with the Health Butler Smart Watch. Track your vital signs in real-time with features such as temperature monitoring, blood oxygen level monitoring, and heart rate monitoring.
Function:
| | | |
| --- | --- | --- |
|  Bluetooth communication | non-invasive blood glucose measurement | Mett function, temperature monitoring,  |
| blood oxygen monitoring, | respiratory training,  | female health (menstrual tracking),  |
| heart rate monitoring,  | blood pressure monitoring,  | sleep monitoring,  |
| sedentary reminder and other health functions. | Exercise function: step count/calorie/distance, | multiple exercise modes. |
| Long endurance standby. | Multiple dial switching, | call reminder, silent alarm clock,  |
| 1.91 high-definition 320 * 386 full touch large screen,  | music control | calculator, gaming. |
 Specification:
Master Chip
7013A
Screen Size
1.91-inch high-resolution 320*386 screen
Temperature
sensor
Contact temperature sensor
Screen Type
IPS HD TFT
Blood oxygen
Infrared light+red light true blood oxygen
BLuetooth
5.0BLE (low power consumption)
gravity sensor 
KXTJ3-1057
Battery Type
High density li-polymer
PPG chip
TYHX3605
Battery Capcaity
260mAh
Virbation
Mute/vibrate
Charging Type
Magnetic suction charging
Waterpfoof Level
IP67
Charging Time
About 3-4H
Compatible System

Android 4.4 and above

,

iOS 8.2 and above 

Endurance  Time
Use for 3-5 days and stand by for 20+ days
Manipulation Mode 
Full screen touch control, mobile APP control
Packing
Watch, charging cable, instruction manual, packing box
Material
Shell: metal alloy
Bottom shell: PC+ABS+medical 316 steel sheet
Strap: Eco-friendly silicone
Bracelet size
265*38*11MM
Color
4 silicone strap configurations in total
(Black gold body paired with black or blue, gold gold body paired with pink or beige).
Box Szie
Color box: 140 * 100 * 29 mm
Cases: 50 sets per case.
Large 1.91-inch full-touch screen | Bluetooth call |Blood GLUCOSE Measurements | Mette function|Temperature monitoring | Blood oxygen monitoring |Breathing training | Pressure monitoring |Heart rate monitoring | Blood pressure monitoring | Mass dial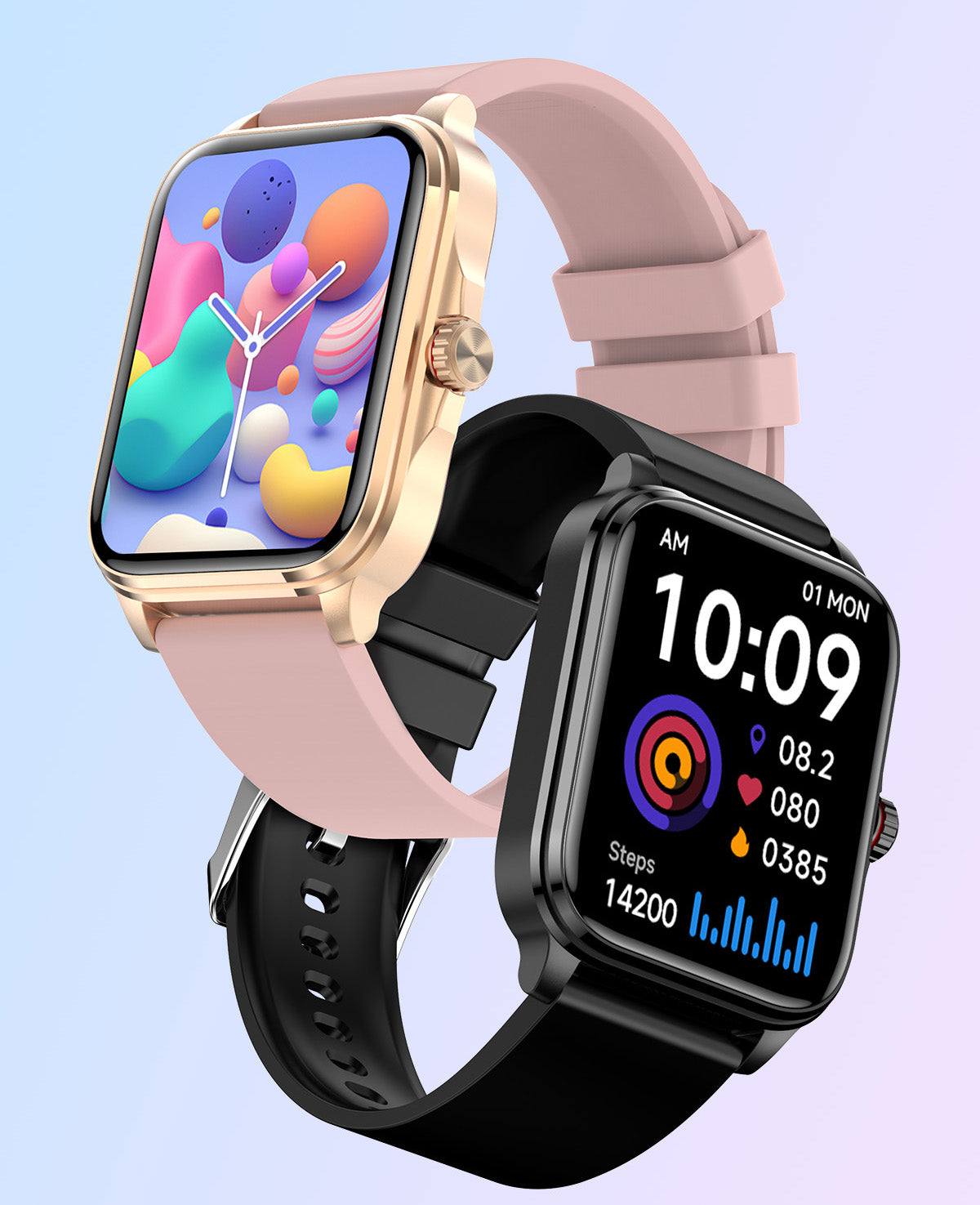 1.91-inch high resolution320 x 386 large screen
Curved design that extends from the screen to the wristband,All in one. Classic watches are inspired by smartwatches,Start a new chapter in smartwatches.
Bluetooth HD call You can make
and receive calls without using yourcell phone
When connected to Bluetooth, the watch has the ability tomake and receive calls and view contactsWatch can makea call directly, under the HD speaker, showHd acoustic, letcommunication more free.
All-weather heart rate trackingKeep abreast of your daily routine
A regular dynamic heart rate is a hard indicator of heart health, except in athletesThe ideal heart rate of ordinary people in quiet state is 60-100 times /min,always pay attention Heart rate changes to ensure heart health.
Zero pain from needle insertionMonitor blood glucose trends at all times
Self-developed non-invasive blood glucose rheology technology can be measured
by needle-free blood collectionBlood sugar trends to avoid infection, pain risk.
More safe and comfortable real-timeKnow what happens to your blood sugar.
Blood pressure, blood oxygen monitoring

Professional human body sensor chip makes blood pressure,blood oxygen measurement more accurate real-time monitoringandAutomatically save data to upload APP to ensure the continuityand accuracy of health test
Breathing training
With breathing training, relieve stress.For you to solve the problem
Scientific sleep monitoringHelp you get a good night's sleep
Sleep quality, analysis of sleep conditions for you to generate a sleep report,your sleep status at a glance, to help you sleep soundly every night
Women's health
Ability to perform menstrual calculations regardless of your regular scheduleOr irregular menstrual cycles, track your life and record yoursCycle diary for easy management of your life.
Multiple motor modesLet go of your love
A variety of professional exercise modes including outdoor running,brisk walking,Mountaineering, swimming, cycling, yoga, etc. Provideprofessional and detailed sports dataExercise time, calories, heartrate and exercise-related indicators. Make exercise moreFree and easy.
Keep track of your exerciseHeart rate, calories, etc
Whether you're jogging at night or working out on the weekend,the watch is readyKeep track of your exercise time, distance, calories,heart rate, etc.,Make your exercise schedule more scientific.
Super long enduranceOne charge, lasting standby
Using 260mAh large capacity battery and intelligent powerconsumption algorithm, maximumTo optimize the power usage.Under normal usage mode,It can be easily used for 3-5 daysto accompany you to adhere to the good habits in life
Call reminderReal-time message push
After the App is connected and paired, the watch can vibrate to remindDisplay message content and call number to effectively resolve noisyenvironment Meetings and other situations where it is inconvenient tolook at your phone
Al intelligent voice
Al voice command, can listen and do, on call, double-click to wake upthe voice assistant, You can open all kinds of applications throughvoice commands. It is convenient and fast to use your hands ratherthan your mouth.
What's the weather like today?
Weather prediction
Know the weather changes in real time and theweather conditions for the next 3 days
IP67 grade water and dust resistantMeet various usage scenarios
With excellent sealing performance, safe and reliable, bringexcellent waterproofPerformance, not only easily cope with thesplash of domestic water, more canResist a lot of sweat during sports,wear more at ease
More functions for daily useDaily use function operation, make life more intelligent and convenientMake health visible in real time